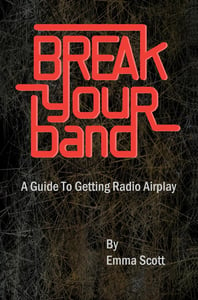 £

14.99
Its actually not that hard to get played on the radio - if you know how - so who best to ask than someone who has worked in radio as a presenter for over 24 years!
Now only available from Amazon:
http://www.amazon.co.uk/Break-Your-Band-Getting-Airplay/dp/1446799816/ref=sr_1_1?s=books&ie=UTF8&qid=1386326046&sr=1-1&keywords=break+your+band
Readers of the book:
"Emma, your book has shown me why we'd not been getting radio airplay in the past, and what we need to do to change that! It's full of really sound advice that in retrospect seem obvious, but aren't, if you know what I mean. It's concise and hits the spot."

"Blimey, Emma!! Your book is absolutely fantastic!! I learnt so much, so thank you very much!!"
So, there you have it, this book will change any musician or bands life!
Increase your iTunes sales, bands awareness and get your music HEARD by thousands of people.
A lot of bands don't realise how important radio airplay is, and how many doors it can open - but, believe me, I know! It's amazing publicity for any band and as soon as one radio station plays you - more will follow.
It's full of gems, trade secrets and MORE!!
Your band WILL get radio airplay after reading this book. Guaranteed!*
*if you're good!
Some more quotes from people who've read the book:

"I read your book last night, extremely well written and ticks all boxes!!! Essential to any band out there!"

"We found the Break Your Band book very helpful indeed! It's often a bit baffling as to what etiquette exists - how to approach people, what to send, what information is required and what is unimportant, and perhaps most importantly what your expectations should be."
Paperback, 86 pages.
Written & devised by hugely experienced radio presenter, concert promoter & music industry expert Emma Scott. This book is the must read bible for any musician, artist manager or anyone interested in the music or radio business'.
Seriously, what are you waiting for?
More info: http://breakyourband.co.uk
You can also download and buy this book from Amazon and lulu.com. Book a demo feedback session too! You won't regret either purchase.